Investment Management
Investment Management Philosophy
Many financial planners, advisors, and investment managers specialize in distinct segments of the market.  Some invest only in domestic stocks, bonds, or real estate. Other managers get more granular in managing only US large-cap growth stocks, energy MLPs, or maybe apartment or industrial real estate.  When their narrow investment strategy falls out of favor, some managers do not adjust to the new market dynamics.
Think back to the go-go "internet bubble" of 1997-2000.  What happened to all those technology heavy mutual funds and portfolios after the bubble burst?  We believe that at best they under-performed their peers and benchmarks, and at worst, they went out of business or were merged with other funds.  Additionally, consider the China-led commodity bubble from 2002-07.  How many of those energy or commodity laden funds have performed well since the economy turned up since the end of the Great Recession in 2009?
Many investment strategies can be broken further broken down into sub-categories, such as:
Asset Class Based Strategies: equities, fixed income, commodities, real estate, or cash
Economic Style: growth investing versus value investing
Market Size: large, mid, and small sized companies
Geography: USA/domestic, International/developed, and emerging markets
The top investment performers cycle in and out of leadership over time.  Given that no single strategy is superior each year, our collective experience of seeing investors chase prior performance and investment leadership led to our development of the OHFG Core4.
The Core4 approach allows our advisors and investment management team to develop a comprehensive and flexible approach to designing either or both your retirement plan and your investment portfolio.  Using the Core4, we can allocate your portfolio across various asset classes, each carrying a different level of potential risk and reward. Allocating across diverse asset categories may help mitigate the emotional response to changes in market dynamics.
Our investment process is rigorous yet flexible. Absent opportunities provided by market volatility, the investment team at Oak Harvest believes that it is prudent to fully invest a new client account over a 4-6 month window.
Our experience has taught us that the market normally gives investors at least 2 higher returning buying opportunities each year, even in bull markets.  We believe our standard 6-month investment implementation window gives our clients more confidence as they ease into new positions, and helps prevent "buyer's remorse" should the market correct immediately after initial investment.
Equity Allocation Tools
Single Stocks:  Where you and your advisor deem appropriate, we create allocations to single stocks, focusing on dividend-paying stocks for investors wanting potentially growing income coupled with an inflation hedge. However, we will not stretch for dividend yield for income generation's sake.
Dividend generation is just one component of a stocks total return, and while it has the potential to smooth investment returns, it cannot prevent one from losing money. We balance a company's business position and fundamentals with its ability to generate free cash flow and pay dividends in the future.
We use an in-house, proprietary system ranking over 125 large-cap stocks, most paying dividends, across all SP500 sectors to generate a diversified stock portfolio.
Mutual Funds and ETFs:  Mutual Funds and ETFs are our vehicles for providing clients with broad market exposures at a relatively low implementation cost. We've chosen to partner with providers whose solutions give our clients broader and more tailored exposure to the three Dimensions of equity market outperformance over time:  profitability, valuation, and size.
All of the stocks, Mutual Funds, and ETFs we include in portfolios are vetted and approved by our investment committee, led by Chris Perras. Our independence allows the OHFG team to choose the from the entire available universe of financial tools to meet your plans objective.  As your fiduciary, if we find better tools, we can and will use them.
Supercharge Your Portfolio
Investing Mistakes in Retirement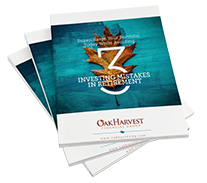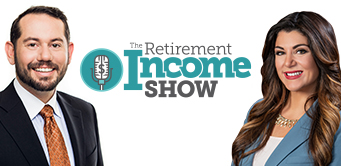 "THE RETIREMENT INCOME SHOW"
---
Listen to our radio show hosted by Troy and Jessica Sharpe at 12 p.m. every Sunday on 740 AM Newsradio 740KTRH.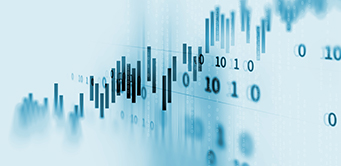 WEEKLY MARKET UPDATES
---
Concerned about how market activity could affect your retirement? Get the latest market updates!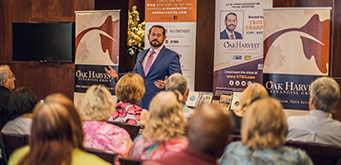 EVENTS
---
Join us for an upcoming educational event to better prepare for your financial future.