View: Summer stall continues
Our view: Equity markets are rotating sector leadership during the continued summer "stall" and second quarter "dead zone." Equity markets rose back toward all-time highs, with the S&P 500 adding 0.6%. Energy led with a 6.7% rally, while health care lagged. U.S. payrolls rose 559,000 in May, highlighting that while demand is poised to remain very strong through the second half of the year, supply-side constraints could persist. It is summer: people work less and spend more time out of the office.
Economics view
In the US, the mismatch between labor supply and demand is a key issue for policymakers. The ease of finding a job has returned to pre-pandemic levels. However, labor market supply remains suppressed due to early retirement, generous unemployment benefits and lingering health concerns. Individuals that would otherwise take jobs on offer appear to be delaying the search. Expect employment gains to continue to build in H2 2021 as unemployment benefits run out and labor is forced back into the market.
Equities and inflation view
Equity markets point to a relatively flat open to start the week, after adding 0.6% last week on the back of a large gain in the "old-line/traditional" energy sector. Treasury yields have rallied despite all the talk of inflation and labor shortages. As a result, the 10-year Treasury rate sits at 1.58% this morning. This is well off of the 1.75% high seen earlier in the year at the peak of the "70s style inflation returning" fanciful headlines.
We will have additional data on equities and inflation dynamics later in the week. Skip to the end of this week's charts and tables for the summary chart.
Global view
Monday is starting off mixed. Asia is down with the Hang Seng/Hong Kong (-0.5%) and the CSI 300/mainland China (-0.1%) while the Nikkei/Japan (+0.3%) and the KOSPI/Korea (+0.4%). Europe is mildly higher, 0.2%, on average.
Resources
Charts and tables
Cumulative market total returns, week ending 6/4/2021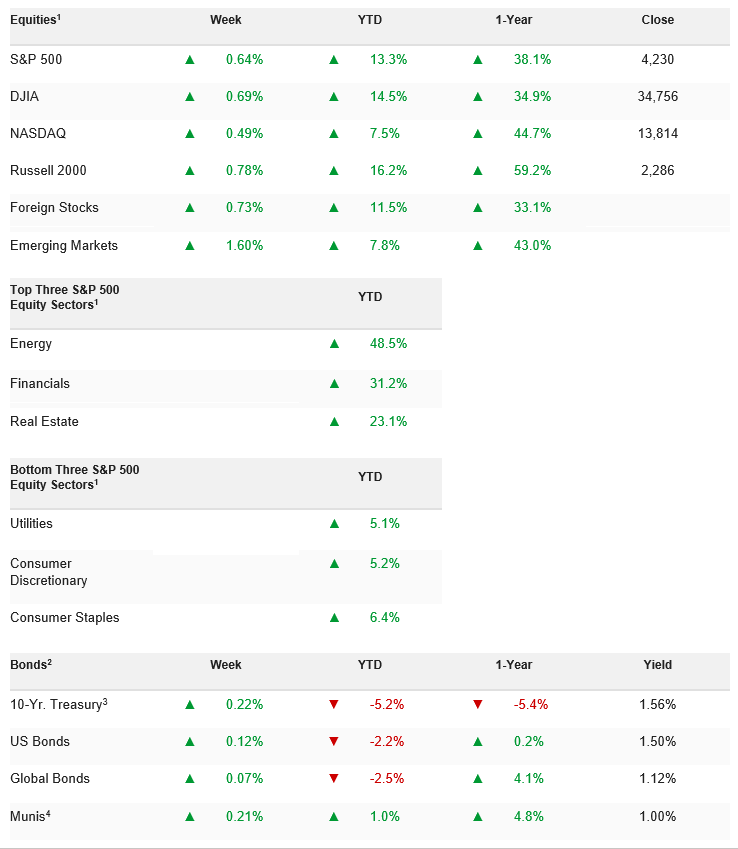 Long-term stocks performance after year-to-year peaks in S&P 500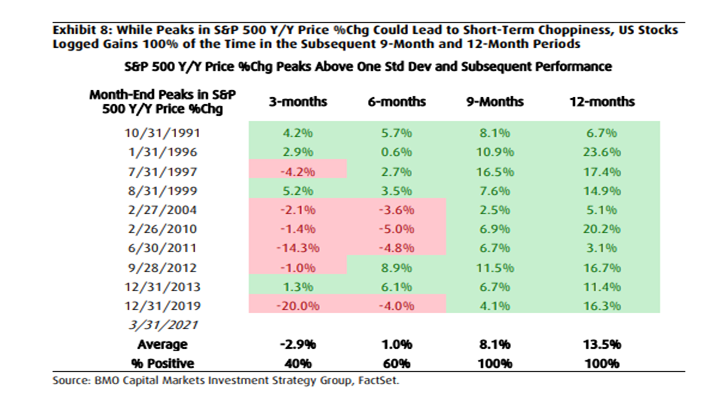 Earnings impact of tax reform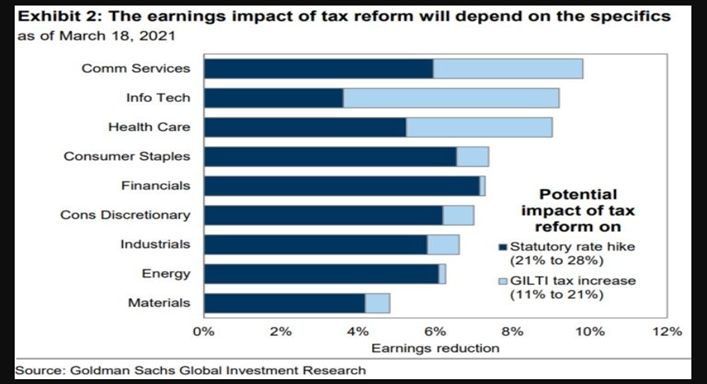 Podcasts and videos
Interesting reading
=
Disclosure
Weekly market updates contain general information and express the views of Oak Harvest Investment Services. Oak Harvest believes that all data, articles, and information cited are reliable at the time of creation. However, Oak Harvest does not warrant any information contained herein to be correct, complete, accurate or timely.
Oak Harvest provides links to content produced by other websites that OHFG does not control. Moreover, Oak Harvest does not necessarily approve or endorse such content and does not guarantee its accuracy.
Nothing in this content constitutes personalized investment advice. All charts, indicators, or graphs included or referenced in this content have limitations. No such material is able, in and of itself, to provide a buy or sell recommendation for any security. Strategies and ideas discussed may not be right for you. And views and opinions expressed may change without notice.
Nothing in this content constitutes a recommendation, or an offer or solicitation to buy or sell securities. Also, Oak Harvest makes no assurance as to the accuracy of any forecast or projection made. Not all past forecasts or projections were, nor future forecasts and projections may be, as accurate as those discussed.
Indexes like the S&P 500 are not available for direct investment and your results may differ. Past performance is not indicative of future results. Investing involves the risk of loss.