06.01.2020 – Market Update
by Chris Perras.
The U.S. market rose last week 3% to cut its losses for the year to -5%.  For the month, the S&P500 jumped 4.5%. Moreover, global equities had an even better week, Global equities had a solid week led by the Japan/Nikkei (+7.3%) and France/CAC (+5.6%).
I have to remind clients, investors, and readers that the 12 month return of the S&P500 is now 11.6%!. Sitting in your seat at worst, or buying the 1st quarter 2020, event/covid induced downturn should prove to be "excess return" generating over the longer term.
Small cap and mid cap stocks exhibited strong relative strength versus the S&P500 early this week and much was made in the financial press about this. From a sector perspective, financials, industrials, and materials exhibited relative strength this week as long-term interest rates rose while technology and communication services were the laggards.
All 11 sectors in the S&P 500 gained last week, led by real estate, which was up 8.3%. Financials gained 6.4%, industrials rose 5.9%, and utilities were up 6.9%. Materials gained 4.6%, consumer staples added 3.4%, health care rose 3.6%, consumer discretionary stocks added 2.3%, technology was up 1.9%, energy rose 0.1% and communications services gained 1.2%.
This morning, the financial news channels turn to their next "crisis".  The images of the protests around the U.S. are not pretty but global markets are looking past them. Probably on the back of our strong Friday close when all other markets were closed already, it is a positive start to the first trading day of June 2020 in international markets. Asia was a wall of green. The Hang Seng added 3.3% by the close. China's markets were up over 2% (CSI 300 +2.7%, Shenzhen +3.2%), while the Japan/Nikkei rose 0.8% to a 3-month high. This has spilled over into Europe so far this morning, though the gains are smaller.
Rumors that China's state-run agricultural firms will pull back on purchases of U.S. soybeans has the US market a bit jittery at the open this morning.   As we mentioned in our Friday Stock Talk podcast, we expect June to be a lot of slop and chop in the stock markets (Deadzone of second quarter), followed by a more positive 2nd half of the year.
With volatility, as measured by the Vix Index, having risen from 12 in January to over 80 at market lows in late March, the S&P500 has experienced a +/- 3% or greater daily move 25% of the time.  This daily move is nearly 9x more than its 20-year average. Oak Harvest will continue to manage portfolios based on our clients needs and situations, seeking to buy quality companies at reasonable prices.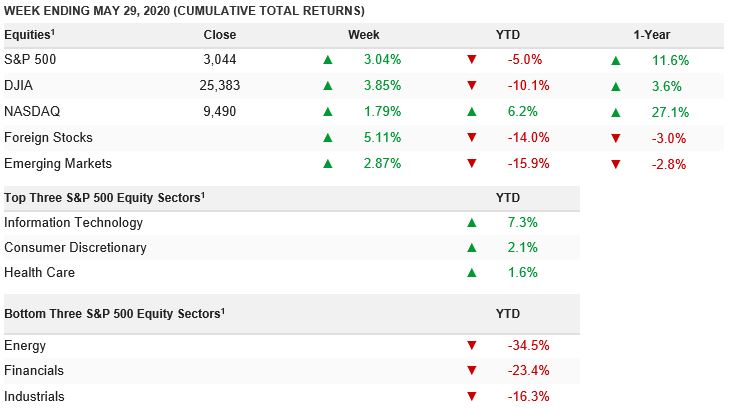 Above data via Franklin Templeton
Weekly market updates contain general information and expresses views of Oak Harvest Investment Services. Data, Articles, and information cited are believed to be reliable at the time of creation, but is not guaranteed. Content should not be regarded as personalized investment advice. Views and opinions expressed may change without notice and do not constitute a recommendation, or an offer or solicitation to buy or sell securities. In addition, Oak Harvest makes no assurance as to the accuracy of any forecast made. Past performance is not indicative of future results. Investing involves the risk of loss.