05.26.2020 – Market Update
By Chris Perras, CIO.
The U.S. market rose last week on positive trial results for a COVID-19 vaccine and continued economic reopening measures.  As we have mentioned almost weekly since March 23rd, markets are forward-looking, so continue to expect a delay in economic activity relative to the markets.
Buoyed by additional positive weekend vaccine news, strong weekend money flows, a high continued short interest in equity markets, and the continued dismay on financial TV shows,  the markets point to a solid open this morning, up almost 2% in pre-market trading, placing the markets at a new recovery high.  There will be chartist talk of regaining the critical 200 day moving average. Waiting to buy until now, one has missed out on an over 35% gain off the bottom in eight weeks.  That includes advisors who may have used "tactical asset allocation" strategies to sell entirely out of stocks on the way down at lower levels. Oddly enough, those same advisors may see this as positive and now "less risky."
Oil prices are up 2.5%, with WTI trading at $34, while bond yields are trending higher—the 10-year Treasury yield sits just under 0.7% this morning.  We have provided a summary table of returns for readers below, via Franklin Templeton: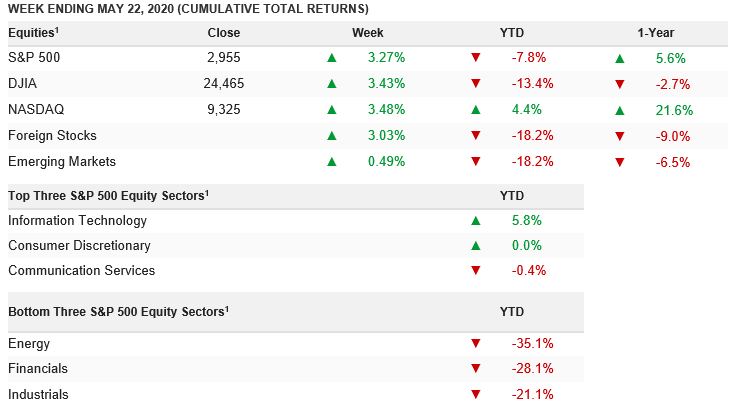 Weekly market updates contain general information and expresses views of Oak Harvest Investment Services. Data, Articles, and information cited are believed to be reliable at the time of creation, but is not guaranteed. Content should not be regarded as personalized investment advice. Views and opinions expressed may change without notice and do not constitute a recommendation, or an offer or solicitation to buy or sell securities. In addition, Oak Harvest makes no assurance as to the accuracy of any forecast made. Past performance is not indicative of future results. Investing involves the risk of loss.