10 Tips to Increase Your Income In Retirement
Published on Jul 26, 2022

Oak Harvest Financial Group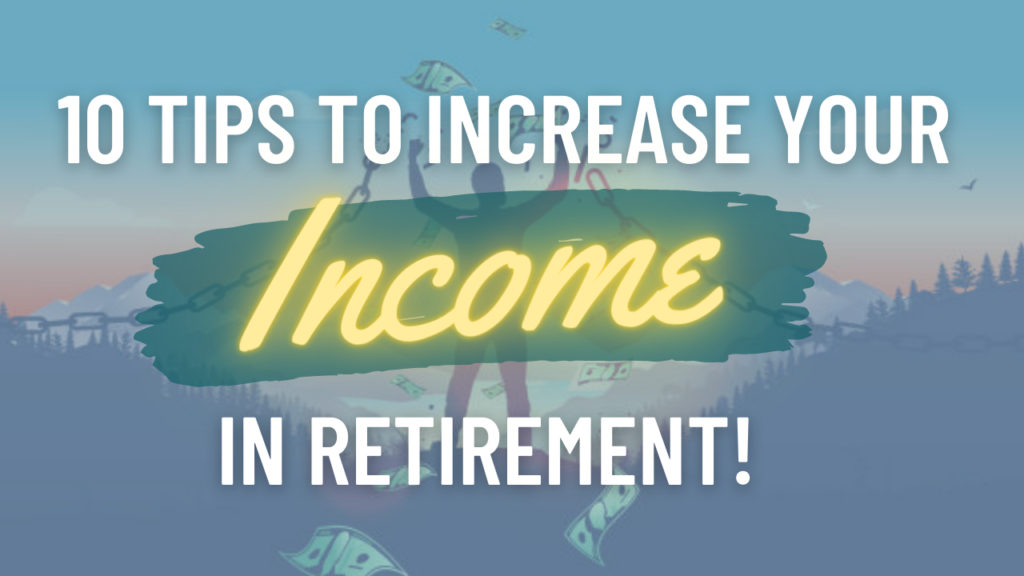 When you have a steady income, saving enough for the future is an integral part of your long-term financial plan. Sometimes because retirement appears to be years away, a retirement saving plan may not be a top priority for many people.
The critical thing to remember is that retirement savings and planning are essential to reaching your dreams after your working years, and their benefits are maximized if you start early.
Whatever your age, there are several advantages to starting retirement financial planning early in life.
The truth is that the sooner you begin saving, the better off you may be, thanks to the power of compound interest.
Consider the following suggestions for increasing your savings for retirement regardless of your current stage of life in pursuing the retirement you desire.
Ensure You Have a Plan from The Start
Making sure you have a retirement plan early in your working years is the first step to increasing your income in retirement.
The process of planning for retirement involves many steps and changes over time. You must plan to create a financial account that will cover your wants and needs if you want to retire in luxury, security, and have plenty of fun.
You need to pay attention to the essential parts and sometimes the tedious parts of planning for your future and how you'll get there.
So what steps do you need in order to get your plan in motion?
Work With Retirement Planner Specialist
You need to find a retirement planner specialist if you want to accomplish your retirement goals. A retirement planner is a financial expert who focuses on assisting you in developing a long-term plan to prepare for the future.
Professional retirement planners are familiar with every aspect of a retirement plan and can assist you with determining how much you will need to save and invest to ensure you won't outlive your retirement savings.
They will also help you plan for how much your current spending should be to achieve your goals in the future.
Plan for Different Stages of Life
When making a retirement plan, you must also account for various life stages to ensure your retirement savings will last you a lifetime. Your retirement plan must evolve with you as you pass through the different stages of life.
You can achieve the retirement lifestyle you aspire to by making advance plans and monitoring your progress frequently.
Starting Your Retirement Investments Early
Saving money as quickly as you can early on in your working years is one of the best ways to increase your retirement income.
Anyone approaching retirement age will attest that the years fly by, and saving for retirement becomes more difficult if you don't begin early.
Compound interest also allows even the most negligible monthly contributions to a retirement account or other high-interest account to grow over time into sizable savings.
Whether you save for short-term or long-term goals, make your money work for you by starting to save early.
Compound Interest
Compound interest is another crucial reason to begin retirement planning early.
If you're unfamiliar with the term, compound interest is the process by which a sum of money grows as interest accumulates over time.
When compound interest is used, the time value of money comes into play, providing returns on not only the amount deposited but also the interest earned on the deposit.
As a result, compound interest can help you snowball your retirement nest egg over time.
Allow For More Risk in The Early Years
Starting early with your retirement savings plans also allows for more risk in the initial years.
Some of the most common pitfalls you can encounter on the road to retirement include overspending, investing with no risk, accumulating loads of debt, and deviating from your plan.
The great news is that they can be simple to avoid if you begin your retirement savings journey early and use a healthy measure of risk and preparation.
Taking Advantage of the Company 401k Match
A unique and trusted technique to maximize your retirement income is 401k investments. If you are qualified and your workplace offers a typical 401k plan, you might be able to maximize the investment by contributing pre-tax towards your retirement.
Your take-home pay will decrease slightly, but only marginally because that money is deducted from your paycheck before applying federal income taxes.
That means that you can increase your investment without having a significant impact on your monthly budget.
Create automatic contributions to deduct money from your paycheck and deposit it into your 401K investment account and you will be surprised at how fast it grows.
Free Money 
Your employer might also offer a 401K matching program if they have a 401K plan and you qualify. It works like this: up to a certain level, typically 3% – 5%, your company will match any contributions you make to your 401K investment.
The company match is essentially free money as you don't have to pay taxes on them when you deposit them into your 401k. This is a great way to quickly build your retirement savings.
Match To the Max Your Company Will Allow
Since you have free money through matching contributions by your employer, contribute as much as the law permits to your retirement savings accounts for the most significant retirement benefit.
By making the maximum allowed contributions to your best 401K investments, you may be able to supplement your retirement savings with a variety of alternative investment options and maximize your future financial gain.
Not Carrying Debt into Retirement Years
To ensure stable income in retirement, it means you have to ensure you do not carry debt into your retirement years.
Every dollar you owe lowers your overall retirement income. You will want to put debt repayment ahead of retirement savings, especially for low-interest loans, that could impact your nest egg.
The ideal technique is to adjust your debt repayment to contribute as much as possible to your retirement plan and reduce debt as you approach retirement years.
Paying off high-interest debt is even more important prior to your  retirement years that will help increase your income.
Devising a plan of paying off debt and investing is key. Once your debt interest rates are below the best possible stock rates for Roth IRA returns, you should switch to debt repayment and an investment mix.
For many, this may entail paying off credit card debt and private student loans before balancing retirement investing with the repayment of federal student loans, auto loans, and mortgages.
Work with your retirement planner to ensure you have the best plan for these situations.
Knowing The Reality of Not Being Able to Work Forever
Even if you're young and active, you should be aware that you won't be able to work in the same capacity forever, so you should start making retirement savings plans as soon as possible.
That might include setting aside that extra cash or increasing the proportion of retirement contributions each time you get a raise.
A good goal to have is to invest 15% of your income into varied investments to help you build your retirement savings.
Avoiding Cashing Out Retirement Savings Early
Maximizing your retirement income entails having a retirement savings plan and saving well enough. Your retirement funds may suffer if you take money out too soon.
You could lose out on tax benefits or be subject to early withdrawal fees. Taking your money out of retirement plans early might make you believe you are safeguarding your nest egg.
However, by withdrawing, you're losing out on the potential for your assets to grow over time.
Remember that the funds in your retirement account are intended for your retirement. So, resist the urge to withdraw from those savings before you plan to retire.
The same holds for taking excessive withdrawals after retiring. Don't let feelings impact your investment's life line.
Knowing What Tax Implications Will Show Up in Retirement
Understanding how much taxes will impact your retirement will depend on your sources of retirement income, and how much you'll need to withdraw from them annually.
Retirement income often falls into three different sources: social security payments, disbursements from retirement plans and IRAs, and ideally money from other saving measures.
You might want to employ specific tax methods to reduce the amount of taxes deducted from your funds for retirement, depending on your income level.
Living in or relocating to a jurisdiction with favorable tax laws is one of the best ways to reduce taxes on retirement income.
In retirement, you might want to adjust your investment holdings to maintain the principal while reducing your tax burden.
Planning for Increased Healthcare Costs
One of the highest costs a retiree may encounter is health care costs. But if you plan for higher health care costs during your later years, rising healthcare prices won't completely deplete your savings.
Health savings accounts are one approach to setting up a safety net for retirement medical expenses. There are age restrictions and use restrictions for these types of accounts , but you can typically utilize the money just like a standard IRA, with the usual taxes on withdrawals and the added benefits of tax-free medical withdrawals and no required minimum distributions.
Avoiding Taking Out Social Security Early
Like retirement savings, you should avoid accepting early social security benefits to maximize your retirement income. Social Security is a fixed source of income in retirement, but the amount you receive is based on your income while working and when you first start claiming benefits.
Different Percentages by Age
The earliest you can start getting reduced Social Security retirement benefits is at age 62. Still, if you wait a year, your monthly payment will rise, and the extra money will quickly accumulate. Even one year's delay in retirement could have a substantial impact on this source of income. You can increase the amount of future Social Security benefits you get if you postpone receiving payments even until age 70.
  Hiring The Right Financial Advisor
One of the most crucial retirement decisions you will ever make is to hire a financial advisor to help you with your retirement planning.
Financial advisors are experts who advise their clients on choices involving personal money and asset management.
Depending on their expertise, financial advisors can assist you with anything from creating a comprehensive retirement savings plan.
Contrary to popular belief, engaging an advisor for retirement planning is not primarily done to select investments or seek the highest rates of return.
Instead, a good retirement financial advisor is crucial since they are familiar with the procedures used to choose investments and adhere to fiduciary requirements carefully.
You will need to select your closest and most dependable ally to handle your enormous fiduciary duty keeping your individual best interests in focus.
Conclusion
The essential step to boosting your income in retirement is realizing the necessity of saving money.
Recognize the amount you want to set aside for retirement and develop innovative strategies to increase your contributions. A typical retirement regret is starting too late and saving too little.
However, you can look forward to retirement if you put forth the effort today.
Automate your retirement savings by having your paychecks automatically send deposits to all of your retirement accounts. Utilize the tax-saving retirement possibilities that you are eligible for.
Here at Oak Harvest, our Financial Advisors and Retirement Planners do more than just manage your investments.
We build holistic retirement plans that aim to reduce risk, increase income and help you pay less tax – and we believe that's what advisors should do!
Oak Harvest's advice combines our institutional investment management experience for clients with detailed financial, tax, and retirement planning. It's Investments + Planning + Service that separate us from the rest.
If you are ready to take the next step, and talk to a team of retirement planners who put your interests first, Schedule a call today!
Summary
Article Name
10 Tips to Increase Your Income In Retirement
Description
When you have a steady income, saving enough for the future is an integral part of your long-term financial plan. Sometimes because retirement appears to be years away, a retirement saving plan may not be a top priority for many people. The critical thing to remember is that retirement savings and planning are essential to reaching your dreams after your working years, and their benefits are maximized if you start early.
Publisher Name
Oak Harvest Financial Group
Publisher Logo

Let Us Help You Achieve the Retirement You Deserve!
Investment Advisory services are provided through Oak Harvest Investment Services, LLC a Registered Investment Advisor. Insurance services are provided through Oak Harvest Insurance Services, LLC. Oak Harvest Investment Services, LLC and Oak Harvest Insurance Services, LLC are not affiliated with the U.S. government or any government agency. Information presented is for educational purposes only intended for a broad audience. Not an offer or solicitation for the sale or purchase of any specific securities, investments, or investment strategies.
"Peace of Mind," "Safety," "Principal Protection," "Lifetime Income, "Guaranteed Income," or other guarantees are associated with fixed insurance products. No such language refers in any way to investment advice, investment advisory products, securities, or recommendations provided by Oak Harvest Investment Services. Investing involves risk. Rates of return are not guaranteed unless otherwise stated. All guarantees are dependent on the financial strength and claims-paying ability of the issuing insurance company. Annuities have limitations and are not appropriate for all circumstances or individuals. They are not intended to replace emergency funds or to fund short-term savings or income goals. Lifetime income may be available on certain products through an optional rider, at no cost or for an additional cost, depending on the contract. Insurance products are not insured by any federal government agency and may lose value. By contacting us, you may be offered information regarding the purchase of insurance and investment products.
Oak Harvest has a reasonable belief that this marketing does not include any false or material misleading statements or omissions of facts regarding services, investment, or client experience. Oak Harvest has a reasonable belief that the content as a whole will not cause an untrue or misleading implication regarding the adviser's services, investments, or client experiences. Please refer to www.oakharvestfg.com for additional important disclosures.