"I Don't Want to Invest Now Because…"
Our firm once began been meeting with a wonderful husband and wife couple. And whenever they came in, we always had good conversations – discussing different topics, like developing a financial plan, their desires for their children and grandchildren, taxes, and how they would spend their retirement.
However, when the topic turned to investing in the stock market, their mindset was usually reflected in the sentence:
"We don't want to invest now because…"
We hear this kind of thing a lot. Many investors are nervous about the markets, the economy, and the general state of the country. And it can't be denied – there's a lot of uncertainty in the world today.
But the thing is…this isn't new. When we look back through modern history, each year there has always been a reason to say, "I don't want to invest now because."
Take a look: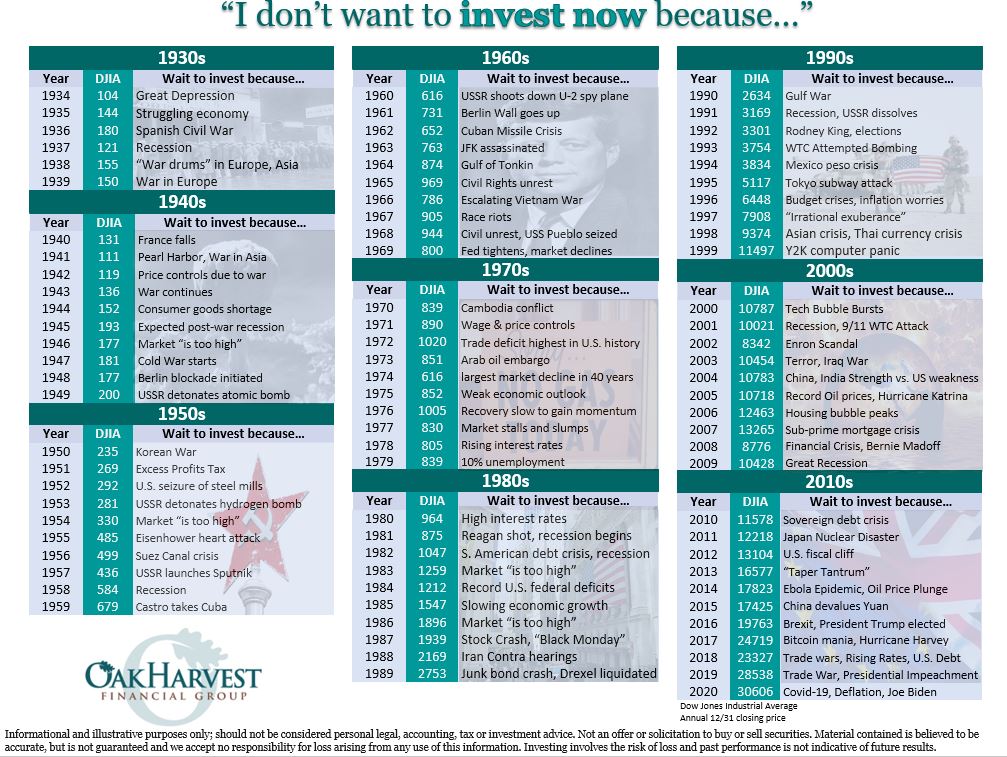 Reading through this time line, we can see two things:
First, we can see that in every year since 1934, it is always possible to find a reason to be worried about the market. There is always a reason to be uncertain about the state of the world. There is always a "because."
Second, we can see that from 1934 to 2020, during all of that uncertainty, the stock market, represented here by the Dow Jones Industrial Average, grew by over 22,000%.
This timeline indicates that over the years, "I don't want to invest now because" has likely cost many investors many opportunities to grow their wealth and help secure their retirements and family legacy.
In contrast, Oak Harvest's view is that investors should embrace both the above points. There may never be a "perfect" time to invest. There may always be reasons to worry. Are there going to be periods of volatility? Yes. Are there going to be times when the market and your investment account are down? Yes. But if history continues as it has, the power of markets will endure, and growth will continue.
And if your investments are happening within the context of a holistic financial plan, with a financial advisor and dedicated portfolio manager with access to excellent strategists, data, and tools at the helm? All the better in our view.
The bottom line: we believe long-term investors will continue to be rewarded.
Ready to take the next step? Contact us today, and learn more about avoiding the shackles of "I don't want to invest now because…"
Indices are not available for direct investment. Their performance does not reflect the expenses associated with the management of an actual portfolio. Past performance is not a guarantee of future results. Diversification does not eliminate the risk of market loss.
Views and opinions are subject to change without notice. Data cited is believed to be reliable but is not guaranteed. This article is distributed for informational purposes, and it is not to be construed as an offer, solicitation, recommendation, or endorsement of any particular security, products, or services. Investing involves risk.