"I Don't Want to Invest Now Because…"

Oak Harvest Financial Group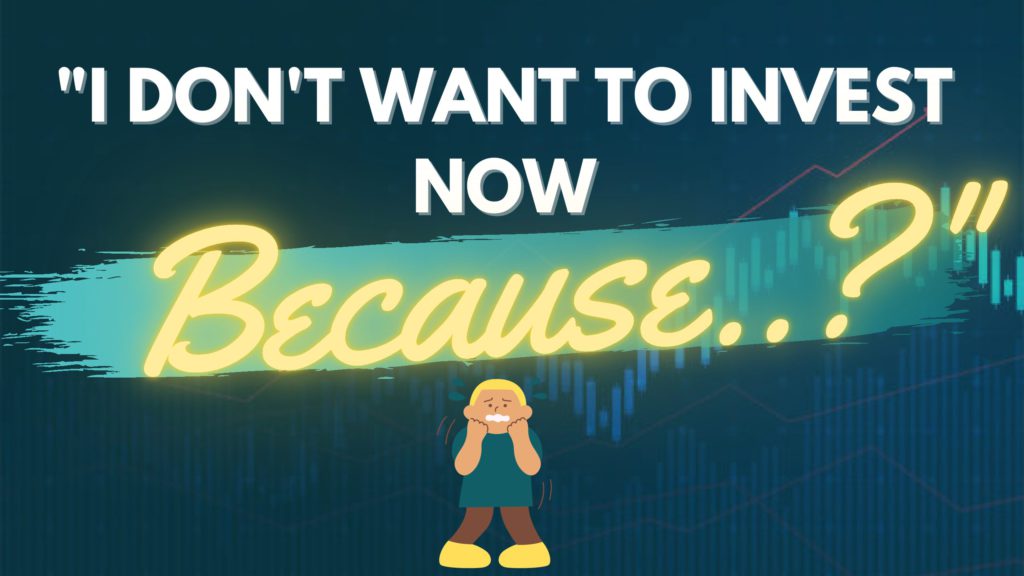 Our firm once began been meeting with a wonderful husband and wife couple. And whenever they came in, we always had good conversations – discussing different topics, like developing a financial plan, their desires for their children and grandchildren, taxes, and how they would spend their retirement.
However, when the topic turned to investing in the stock market, their mindset was usually reflected in the sentence:
"We don't want to invest now because…"
We hear this kind of thing a lot. Many investors are nervous about the markets, the economy, and the general state of the country. And it can't be denied – there's a lot of uncertainty in the world today.
But the thing is…this isn't new. When we look back through modern history, each year there has always been a reason to say, "I don't want to invest now because."
Take a look: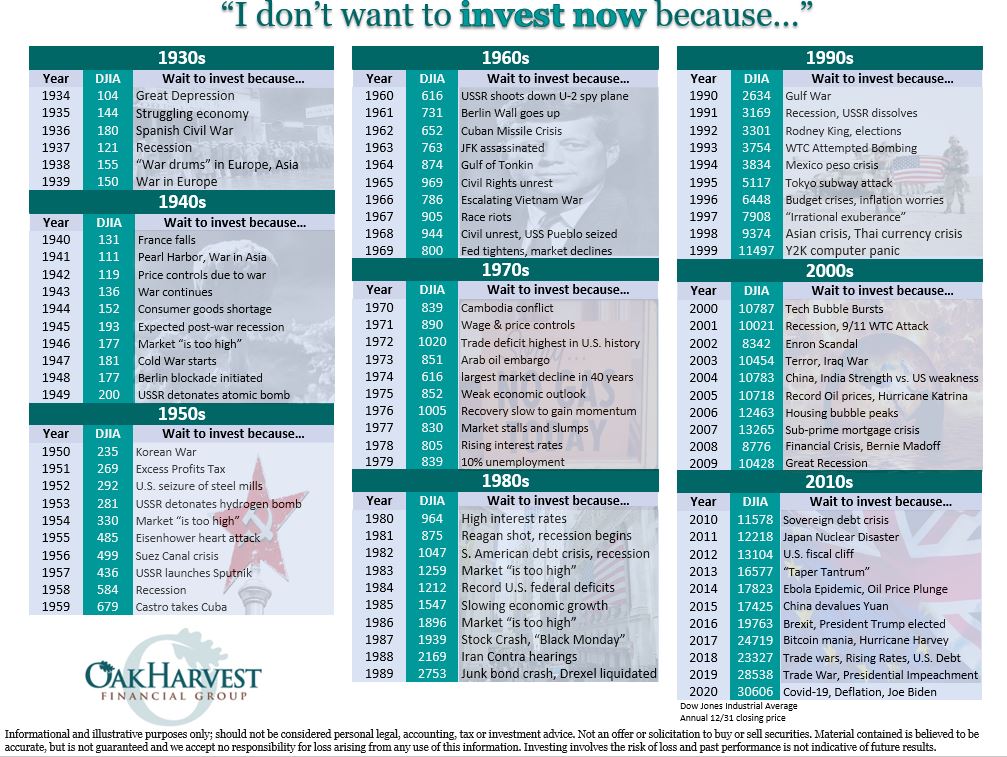 Reading through this time line, we can see two things:
First, we can see that in every year since 1934, it is always possible to find a reason to be worried about the market. There is always a reason to be uncertain about the state of the world. There is always a "because."
Second, we can see that from 1934 to 2020, during all of that uncertainty, the stock market, represented here by the Dow Jones Industrial Average, grew by over 22,000%.
This timeline indicates that over the years, "I don't want to invest now because" has likely cost many investors many opportunities to grow their wealth and help secure their retirements and family legacy.
In contrast, Oak Harvest's view is that investors should embrace both the above points. There may never be a "perfect" time to invest. There may always be reasons to worry. Are there going to be periods of volatility? Yes. Are there going to be times when the market and your investment account are down? Yes. But if history continues as it has, the power of markets will endure, and growth will continue.
And if your investments are happening within the context of a holistic financial plan, with a financial advisor and dedicated portfolio manager with access to excellent strategists, data, and tools at the helm? All the better in our view.
The bottom line: we believe long-term investors will continue to be rewarded.
Ready to take the next step? Contact us today, and learn more about avoiding the shackles of "I don't want to invest now because…"
Let Us Help You Achieve the Retirement You Deserve!
Investment Advisory services are provided through Oak Harvest Investment Services, LLC a Registered Investment Advisor. Insurance services are provided through Oak Harvest Insurance Services, LLC. Oak Harvest Investment Services, LLC and Oak Harvest Insurance Services, LLC are not affiliated with the U.S. government or any government agency. Information presented is for educational purposes only intended for a broad audience. Not an offer or solicitation for the sale or purchase of any specific securities, investments, or investment strategies.
"Peace of Mind," "Safety," "Principal Protection," "Lifetime Income, "Guaranteed Income," or other guarantees are associated with fixed insurance products. No such language refers in any way to investment advice, investment advisory products, securities, or recommendations provided by Oak Harvest Investment Services. Investing involves risk. Rates of return are not guaranteed unless otherwise stated. All guarantees are dependent on the financial strength and claims-paying ability of the issuing insurance company. Annuities have limitations and are not appropriate for all circumstances or individuals. They are not intended to replace emergency funds or to fund short-term savings or income goals. Lifetime income may be available on certain products through an optional rider, at no cost or for an additional cost, depending on the contract. Insurance products are not insured by any federal government agency and may lose value. By contacting us, you may be offered information regarding the purchase of insurance and investment products.
Oak Harvest has a reasonable belief that this marketing does not include any false or material misleading statements or omissions of facts regarding services, investment, or client experience. Oak Harvest has a reasonable belief that the content as a whole will not cause an untrue or misleading implication regarding the adviser's services, investments, or client experiences. Please refer to www.oakharvestfg.com for additional important disclosures.