How to Emotionally Prepare For Retirement
Published on Apr 25, 2022

Oak Harvest Financial Group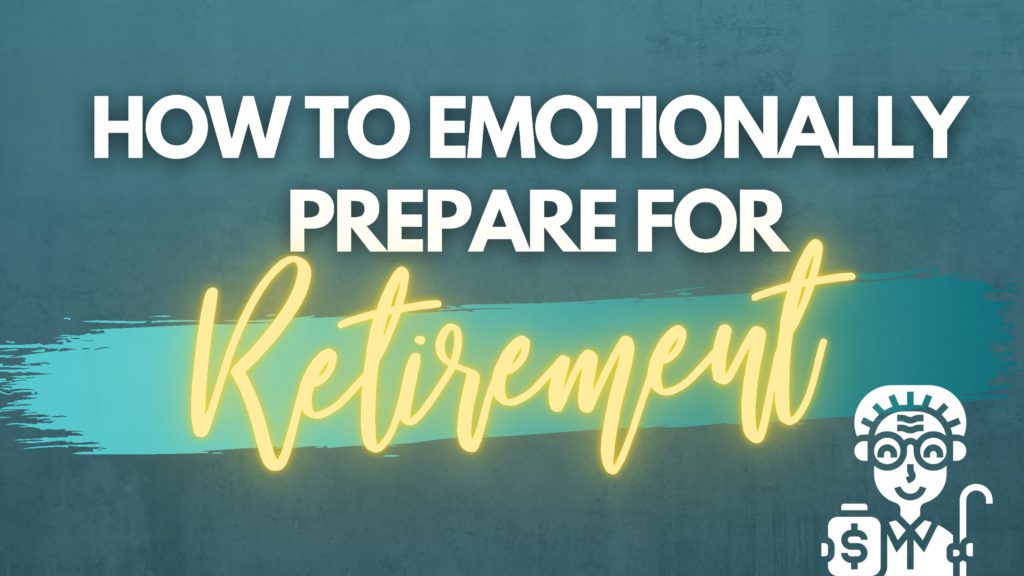 Retirement is one of the greatest milestones you will reach in your life. Preparing for retirement takes planning, saving and making wise decisions during your working years to ensure that when the "big day" arrives, you are ready to live the greatest years of your life.
The 401k is funded. The pension is locked and loaded. The retirement plan is ready to be activated. There's nothing else to worry about, right? Well…there is one area that is often overlooked, and that is the emotional impact of moving into retirement. Retirement is a massive change in your life and an exciting one – yet the transition into this new stage of life needs to be handled with wisdom and care.
According to the Centers for Disease Control & Prevention, 25 percent of adults age 65 or older have some type of mental health challenge. And what is even scarier is that suicide rates for men are the highest for age 75 and older. We don't want those statistics to even come close to touching your retirement years, so caring well for the emotional impact of retirement will be time well spent. Let's explore some helpful ways you can become emotionally resilient as you approach retirement.
The phases of retirement and their impact on you.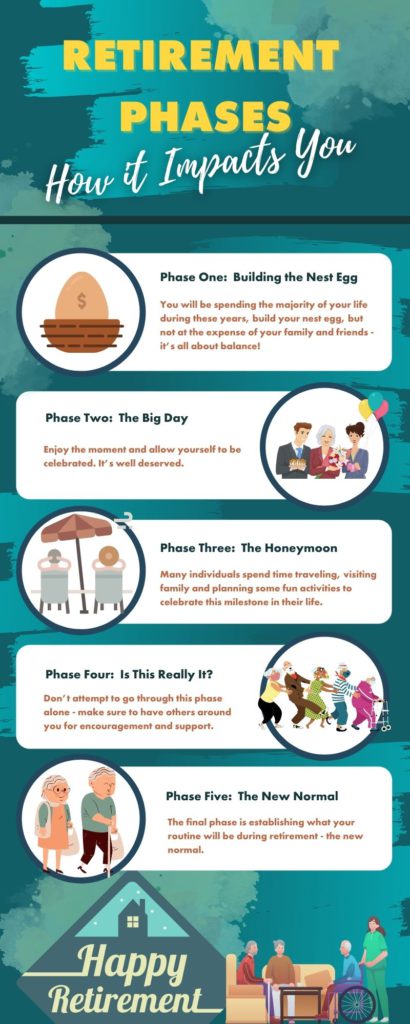 First, it is important to understand the natural phases of retirement to help give you an understanding of what you will likely experience. 
Phase One: Building The Nest Egg (Pre-retirement)
Pre-retirement are the years leading up to your retirement. You are working hard, buying a house, raising your family, saving money and trying to invest wisely in preparation for retirement one day. Knowing that you will be spending the majority of your life during these years, build your nest egg, but not at the expense of your family and friends – it's all about balance!
Phase Two: The Big Day (Retirement Day)
The working years are finally coming to a close! You have put blood, sweat and tears into your career and now the big day has arrived where you will no longer punch the clock for your paycheck. It can be a highly emotional day where there is excitement, yet also sprinkled with some worry of what the future may look like. Again, just enjoy the moment and allow yourself to be celebrated. It's well deserved.
Phase Three: The Honeymoon (Post-Retirement)
For most couples after getting married, they travel to a remote destination for a week or two to celebrate their recent marriage. The honeymoon is a time of bliss and looking forward to the future life ahead. Retiring also has a honeymoon period where many individuals spend time traveling, visiting family and planning some fun activities to celebrate this milestone in their life. The length of the honeymoon period after retiring can vary for individuals, but is a joyous time to enjoy!
Phase Four: Is This Really It? (Dissatisfaction)
Every honeymoon has to come to an end and that is true for your retirement honeymoon. After taking time to enjoy this new season of life, it is common for dissatisfaction to set in and you might start questioning if retirement was the right decision. This is normal and something important to prepare for emotionally. Don't attempt to go through this phase alone – make sure to have others around you for encouragement and support. There is a secret to not allowing dissatisfaction to set in, which we will explore in just a moment.
Phase Five: The New Normal (Routine)
The final phase is establishing what your routine will be during retirement – the new normal. This is heavily dependent on your financial position, your health and goals you have during these precious years. To understand this more, let's look at how the years of retirement could be impacted based on those factors.
The Go-Go Years – During the first 10 years after retirement, you will likely be more active due to being younger and healthier. These years are typically filled with travel and spending more money out of your retirement savings. Give yourself permission to spend more in these years as you are not guaranteed perfect health throughout all retirement years.
The Slow-Go Years – In the middle years of retirement, the amount of activity or traveling may start to slow down due to health reasons or just overall comfort level with activities. You will likely be trading in salsa dancing for salsa making during these years – and there is nothing wrong with that! Just make sure to avoid becoming too much of a home body as you still have lots of life to experience during these years.
The No-Go Years – The final years of retirement are going to be greatly impacted by your health – it could be five years or 20 years. Getting older is not easy, but these years can still be enjoyed by staying as socially active as possible and finding new ways to enjoy life.
These phases are important to understand and prepare for emotionally. But what is the key to staying satisfied during your retirement year? Buckle up, let's find out!
What do you want to be when you grow up?
Think back to when you were a kid. There was always that one job that you gravitated towards – maybe a doctor, teacher, musician or movie star. It's likely you even dressed up and imagined what it would be like to fulfill that dream. Now as an adult, you have worked many years, are approaching those retirement years and should likely ask the same question – what do you want to be in those retirement years? Or better yet, what will your purpose be during your retirement years when your career identity is a thing of the past?
Nadine, a recently retired nurse of 42 years, really struggled with finding her purpose after retiring. After working in the medical field for over four decades, she had deeply rooted her identity in the work she was doing and she was one of the best. Nadine was constantly recognized at her local hospital for the high degree of professionalism and care she provided to her patients. This included being awarded the highest honors year after year for leadership of others and the highest patient satisfaction rating for the region.
As Nadine approached retirement, she knew things would change, but she wasn't prepared for the impact this shift in her life would have on her mentally. After about 6 months of traveling and marking some items off her bucket list, she returned back home excited to get into her new rhythm of retirement. But in just a few short months, she fell into clinically diagnosed depression. There was no alarm clock that needed to go off. No cars to yell at for cutting into her lane. No co-workers to catch up on life with. No patients to care for. Life had changed.
One key step in preparing emotionally for retirement is to start thinking and planning what your purpose or identity will be in retirement. The reality is that the transition from working to retirement is a big life change. The fulfillment that you might have received while working or having kids at home – that will drastically change. So exploring and planning for what your life's mission during retirement might be will be an important part of the emotional transition into retirement.
There is also an important distinction that needs to be brought to your attention. And that is the difference between happiness and purpose. 
Happiness is more focused inward by satisfying your own wants, needs and desires. This is great when life goes as planned, but when a difficult situation arises, you better be prepared for some major struggles.
Purpose is more focused on meeting the wants, needs and desires of others around you. It's looking for opportunities to contribute to something bigger than yourself. And when your purpose is well defined, even setbacks are not looked at as negative experiences because you're focused on others.
Finding your purpose as you prepare for retirement can be challenging, but know that your purpose doesn't only fit in just one box. It could be serving in your local community to make an impact with others. It might be taking care of grandkids while mom and dad are working. It could be taking a friend out to lunch every Wednesday who cannot drive. When your purpose is focused on others, you will ultimately find joy! And yes, you still have permission to do things YOU want to do – it's all in the balance.
Remember Nadine's story? She had worked hard over her 42 years and had done everything right to prepare for retirement, except planning what her purpose might be after leaving the hospital. Depression did not get the best of her as she now serves as a part-time consultant for the same hospital she retired from developing other nurses to be the best they can be. She also joined a local community club and has developed friendships to last the rest of her life.
Nadine's story is not unique – so take the time today to really think about purpose and meaning in those retirement years so they are filled with joy, laughter and fulfillment!
Phone a friend.
Another important way to emotionally prepare for retirement is also to make sure you are not going into this new stage of life alone. There is great value in ensuring you have a strong support system that will be there for you in the exciting times, but more importantly in the more difficult times that may arise. That support system could be made up of family, friends, or individuals in your community, but it should not only consist of one group. Everyone has busy schedules so ensuring you have a mix of family, friends and others will allow you to always have the support you need.
One of the greatest support systems you should pursue is networking with other recent and long-term retirees to gain wisdom on approaching retirement and the days to follow. By building relationships with a recent retiree, you can gain relevant knowledge from an individual that has just walked out their transition to retirement. And by networking with long-term retirees, you can build out a sustainable long-term plan to ensure your emotional well being is taken care of.
So how do you find other retirees in your community? There are many great ways to connect with others – some of them being through faith communities, neighborhood organizations, senior community centers, exercise classes and even looking for online communities to engage with.
The bottom line is this…don't wait until you retire to develop the relationships that will carry you through your transition to retirement. Relationships take time to develop, so start early so as you approach the retirement years, you'll be well supported.
Retire well financially and emotionally!
Dwight Moody, an American evangelist, had this to say about retirement, 
"Preparation for old age should begin not later than one's teens. A life is empty of purpose until 65 will not suddenly become fulfilled on retirement." 
It is important to prepare financially, but equally important to prepare emotionally for this big life transition. By understanding the different phases of what you will experience emotionally during retirement, finding your purpose during the retirement years and making sure you have a strong support system – you can retire well!
Summary
Article Name
How to Emotionally Prepare For Retirement
Description
Retirement is one of the greatest milestones you will reach in your life. Preparing for retirement takes planning, saving and making wise decisions during your working years to ensure that when the "big day" arrives, you are ready to live the greatest years of your life. The 401k is funded. The pension is locked and loaded. The retirement plan is ready to be activated. There's nothing else to worry about, right? Well…there is one area that is often overlooked, and that is the emotional impact of moving into retirement. Retirement is a massive change in your life and an exciting one – yet the transition into this new stage of life needs to be handled with wisdom and care.
Publisher Name
Oak Harvest Financial Group
Publisher Logo

Let Us Help You Achieve the Retirement You Deserve!
Investment Advisory services are provided through Oak Harvest Investment Services, LLC a Registered Investment Advisor. Insurance services are provided through Oak Harvest Insurance Services, LLC. Oak Harvest Investment Services, LLC and Oak Harvest Insurance Services, LLC are not affiliated with the U.S. government or any government agency. Information presented is for educational purposes only intended for a broad audience. Not an offer or solicitation for the sale or purchase of any specific securities, investments, or investment strategies.
"Peace of Mind," "Safety," "Principal Protection," "Lifetime Income, "Guaranteed Income," or other guarantees are associated with fixed insurance products. No such language refers in any way to investment advice, investment advisory products, securities, or recommendations provided by Oak Harvest Investment Services. Investing involves risk. Rates of return are not guaranteed unless otherwise stated. All guarantees are dependent on the financial strength and claims-paying ability of the issuing insurance company. Annuities have limitations and are not appropriate for all circumstances or individuals. They are not intended to replace emergency funds or to fund short-term savings or income goals. Lifetime income may be available on certain products through an optional rider, at no cost or for an additional cost, depending on the contract. Insurance products are not insured by any federal government agency and may lose value. By contacting us, you may be offered information regarding the purchase of insurance and investment products.
Oak Harvest has a reasonable belief that this marketing does not include any false or material misleading statements or omissions of facts regarding services, investment, or client experience. Oak Harvest has a reasonable belief that the content as a whole will not cause an untrue or misleading implication regarding the adviser's services, investments, or client experiences. Please refer to www.oakharvestfg.com for additional important disclosures.