CFP®, AAMS®, CRPC®, CTS™, NSSA®, CES™, CMFC®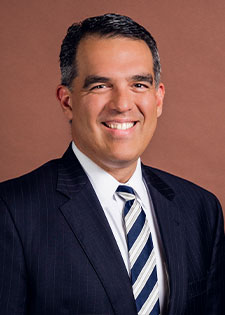 Senior Financial Advisor
Ed Rossi brings over 30 years of financial services experience to Oak Harvest.  His primary purpose is to help clients meet all their financial goals. Ed believes in a holistic approach to financial planning and provides value to his client's experience by paying attention to all details of their goals and creating a custom solution for their retirement.
Ed is a native Houstonian, earning his B.B.A. from the University of Houston with a concentration in Finance (1992).  Even weeks before his graduation, he began working as an advisor. Since then, he has earned his designation as a Certified Financial Planner™ Professional and is a National Social Security Advisor Certificate Holder. Additionally, Ed is a Certified Tax Specialist (CTS™) and Certified Private Wealth Advisor® (CPWA®).
Ed has been married to his wife, Jennifer, for over 20 years.  They spend their free time driving their son and daughter to their extracurricular activities (i.e. volleyball, marching band).  Ed also enjoys cooking and spending time with his family (and dog, Rhino).
Summary
Name
Job Title
CFP®, AAMS®, CRPC®, CTS™, NSSA®, CES™, CMFC®, CPWA®
Company
Oak Harvest Financial Group