Transitory Rotation: Growth Upturn
Rotating: Growth upturn, transitory commodity inflation peak. The S&P 500 rose to a minor all-time high last week. It added 0.4% last week with healthcare and consumer discretionary sectors providing the biggest boost. Financials and materials lagged on the back of a flatter yield curve, a decline in commodity prices and peaking inflation worries. Even with the pullback, these two "value" oriented groups remain with the largest gains over the last 12 months.
Transitory
On the economic data front, U.S. consumer prices were the focus with both headline and core CPI growth accelerating in May. Equity and bond markets were not concerned with the hotter-than-expected gains.
Instead, "transitory" remained the mantra. As our Oak Harvest investment team has previewed for 4–6 week: the real-time bond market, yield curves and Treasury bond components of inflation break evens, and real growth lead government data by weeks and months.
Transitory Inflation Preoccupation
Almost everyone today seems concerned about "inflation." (Possibly because that is all the news channels are pumping out to their viewership? Do you recall what the concerns were exactly one year ago? Deflation!)
Everyone seems to be arguing as to whether we are experiencing inflation today. Some say its true inflation, whereas others say it is simply transitory.
Transitory Spectrum
I reside largely in the transitory spectrum of this issue. And I believe that over the next 6–12 months we will see the shortages easing — especially in the labor force — as we stop paying people to stay at home and not work. That being said, I don't care whether my opinion is right or wrong on this issue. My opinion doesn't help me make our clients' money in the stock market. Instead, we watch real-time indicators that our team has found to be leading indicators of what matters to financial markets. In this way, we try to stay ahead of others and the herds.
Right now, those indicators are saying the herd is too short the dollar, too long gold, too worried about inflation. They are also saying that the herd is not worried enough about a short-term pick up in volatility — but Treasury market volatility leads to equity volatility short-term. And they say the herd is way too pessimistic about real growth in the economy for H2 2021, particularly Q4 2021 and Q1 2022.
Review the attached charts and tables to see some of the real-time data.
Resources
Tables
Cumulative Total Returns, Week Ending 6/11/2021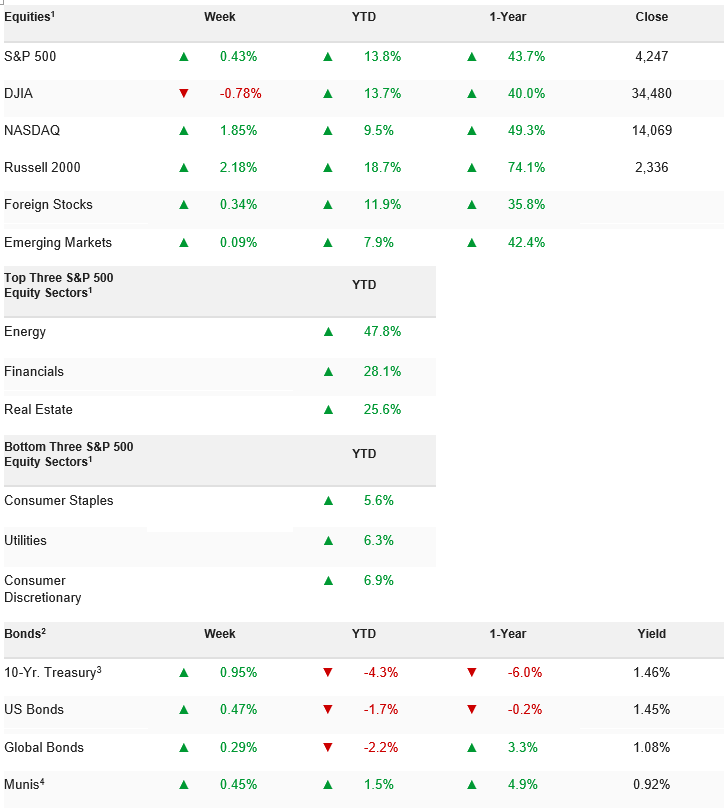 S&P Peaks vs Subsequent Stock Performance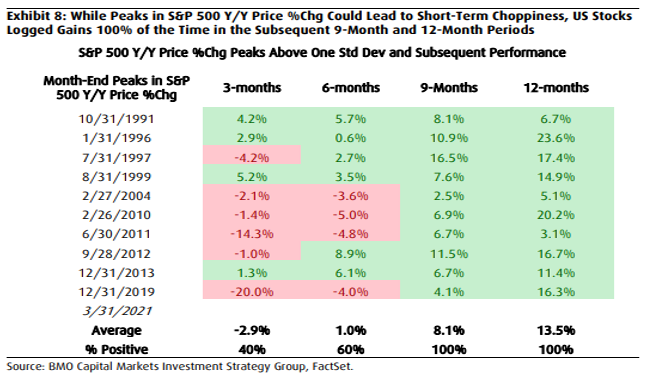 Podcasts and Videos
Interesting Reading:
Disclosure
Weekly market updates contain general information and express the views of Oak Harvest Investment Services. Oak Harvest believes that all data, articles, and information cited are reliable at the time of creation. However, Oak Harvest does not warrant any information contained herein to be correct, complete, accurate or timely.
Oak Harvest provides links to content produced by other websites that OHFG does not control. Moreover, Oak Harvest does not necessarily approve or endorse such content and does not guarantee its accuracy.
Nothing in this content constitutes personalized investment advice. All charts, indicators, or graphs included or referenced in this content have limitations. No such material is able, in and of itself, to provide a buy or sell recommendation for any security. Strategies and ideas discussed may not be right for you. And views and opinions expressed may change without notice.
Nothing in this content constitutes a recommendation, or an offer or solicitation to buy or sell securities. Also, Oak Harvest makes no assurance as to the accuracy of any forecast or projection made. Not all past forecasts or projections were, nor future forecasts and projections may be, as accurate as those discussed.
Indexes like the S&P 500 are not available for direct investment and your results may differ. Past performance is not indicative of future results. Investing involves the risk of loss.