07.27.2020 – Market Update
By Chris Perras.
Equity markets ended the week mostly lower amid a combination of rising US/China tensions, high COVID virus trends, and a stall in further U.S. fiscal stimulus measures. The S&P 500 fell 0.3% from last Friday's close with the largest drags coming from the second half of the week selloff in tech and telecom sectors.  Banks/financials and energy provided some offset although each of those sectors down year-to-date basis. The Nasdaq managed to climb to an all-time on Monday, but could not sustain its gains, as high expectations dampened returns.  The Nasdaq turned negative for the second straight week but non-NASDAQ 100 outperformed by over 4% last week.
As we first noted in March, pent up demand in housing and autos remained strong as millennial demand pushed pricing and demand there higher.  Single-family new home sales soared 14% to 13-year high and mortgage applications remained at an 11-year high.
Later this week, the big events are earnings out of the gig technology names, the Fed's policy announcement on Wednesday, the release of real GDP data for Q2 on Thursday, and continued Virus data.
Gold prices surged to "record highs" of $1,944.71 overnight, last seen in 2011 toward the end of the first QE stimulus.  The dollar is weaker against most all currencies as both the Federal Reserve and Federal government both look to borrow and spend to offset the virus slowdown.
The following chart is an interesting breakdown on year to date S&P 500 returns provided by Goldman Sachs.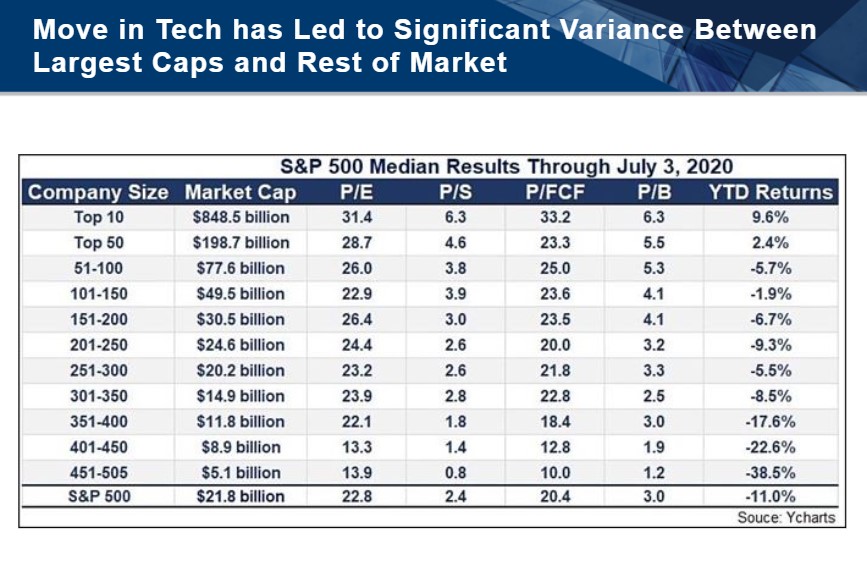 This chart is a breakdown of year to date returns by market cap of the S&P 500.  What one sees is the unusual dynamic of the highest returning companies are the fastest growing companies, also have the largest market cap capitalization, and the highest valued.  The method to this "madness" is largely that their performance and out-performance is almost entirely correlated to lower long-term interest rates.  Lower long-term interest rates make the "math" behind the net present value of free cash flows calculation for "growth at any price" companies more valuable at lower long-term interest rates.  The "terminal value" (the value and worth of these companies out 10-20 years) becomes most of their current valuation calculation.  Investors are paying up for growth and the "safety" of the visibility of large cap tech companies that have moved to reoccurring revenue models.  If and when long term interest rates begin to rise (as we saw in the 4th quarter of 2019), we will see this dynamic reverse and value stocks, the lower part of this list, should outperform.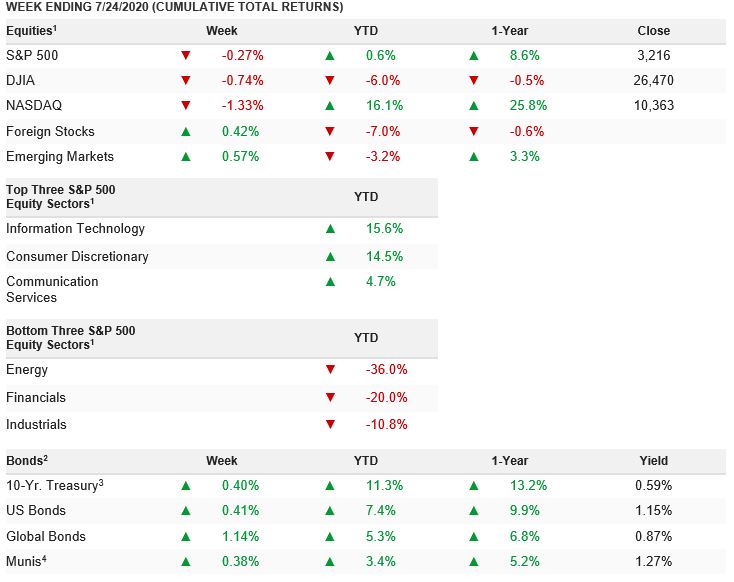 Weekly market updates contain general information and expresses views of Oak Harvest Investment Services. Data, Articles, and information cited are believed to be reliable at the time of creation, but are not guaranteed. Nothing in this content is intended as, nor should it be regarded as, personalized investment advice. Strategies and ideas discussed may not be right for you.  Views and opinions expressed may change without notice and do not constitute a recommendation, or an offer or solicitation to buy or sell securities. In addition, Oak Harvest makes no assurance as to the accuracy of any forecast made. Past performance is not indicative of future results. Investing involves the risk of loss.