06.15.2020 – This is What Early Bull Market "Dips" Look Like
By Chris Perras.
The S&P500 index closed the week at 3025 with even the Nasdaq pulling back from last Wednesday's closing record of above 10,000 to end the week -2.3% lower. The S&P 500 closed the week down 4.8% including Thursdays down 6% one day dump.  Fears of a second wave of the virus finally took hold.  A gloomy outlook from Chairmen Powell soured the mood of short-term investors. The 10-year Treasury rate retreated 19 bps to 0.71% last week putting pressure on cyclical areas of the market.
Powell's comments took a somber tone and warned about potential permanent job losses from small business failures. Powell noting that the Fed is, "not even thinking about thinking about raising rates".  The Federal Reserve has never been proven to be very good at its forecasting skills.
As we had expected focus has turned to the rising virus and hospitalization case counts that are lagging behind the Memorial Weekend partying and George Floyd protests.  Leave it to the media to be at least a week behind what is important to stock prices.  We will be looking to buy this "dip" as we have previously mentioned near the 20-month mva of 2900-2975 on the S&P500.
Some virus data from our friends at FundStrat:
POINT #1: Total tests hit >631,000 over the weekend, a new high.  Total COVID-19 cases steady at 20,000
Total US cases were steady, mostly, over the weekend, with Sunday night's tally at 20,902.  This is about flat with where it was at the end of last week.
– testing reached a new high, surpassing 631,000 on Friday, >537,000 Saturday and was ~485,000.
– so far, there is no signs of a second wave stemming from the nationwide protests.
POINT #2: Cases are diverging from Hospitalizations and from Deaths.  Incremental hospitalization rate now 7% vs 28% 8 weeks ago…
Many of our clients have noted that "confirmed cases" is becoming a less ideal measure of COVID-19 spread, because of improved testing.  NY Gov Cuomo even offered that "positivity" rates is a better metric than cases, because of wider testing.
But the summary charts below show that:
– cases are flat
– deaths are falling
– hospitalizations are falling.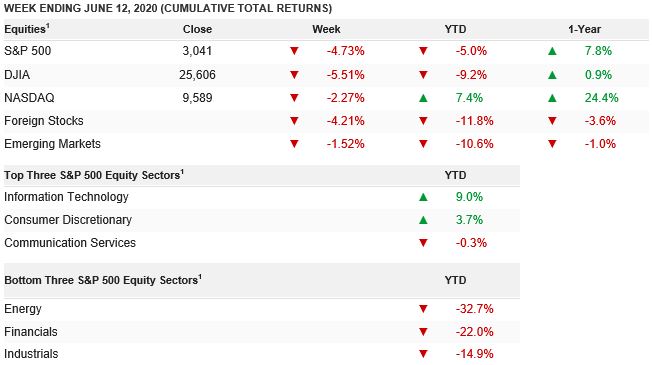 Weekly market updates contain general information and expresses views of Oak Harvest Investment Services. Data, Articles, and information cited are believed to be reliable at the time of creation, but is not guaranteed. Content should not be regarded as personalized investment advice. Views and opinions expressed may change without notice and do not constitute a recommendation, or an offer or solicitation to buy or sell securities. In addition, Oak Harvest makes no assurance as to the accuracy of any forecast made. Past performance is not indicative of future results. Investing involves the risk of loss.