06.08.2020 – 8 Weeks Later: No Depression
By Chris Perras.
Buoyed by strong weekend money flows into index funds and ETFs, a surprise ECB bond buying program announcement, hedge fund and risk parity mid-week fear of missing out (FOMO), and finally a strong Friday jobs report, (much to the continued dismay on financial TV shows),  the S&P 500 reached its highest level since Feb 24 and closed in the green for a third week in a row.
The S&P500 index closed at 3,193 up 4.9% from last Friday's 3,044 close with every sector of the index up from the prior week's close.
The upbeat jobs report overshadowed the worst civil unrest since 1968 (which as we pointed out two weeks ago, 1968 was a very good year for stocks!) as well as escalating tensions between the US and China.
The energy sector was up 15.7% as oil shot up by another 12% last week. The sixth week in a row that oil futures have gained ground.
The media's new found confidence in a V-shaped recovery (late by 6 or 7 weeks) coupled with a 26 basis point rise in the yield of the 10-year Treasury note helped the financials end the week with a 12.1% gain. (Recall our mantra, "steeper is better").
Industrials surged 10.5% on the week. The beaten-down airline sectors, hotel sectors, and transports made huge moves last week as re-opening economy and lifted travel restrictions drove shares of American Airlines (AAL) up 77% last week alone. The other airline stocks posted impressive gains and provided a tailwind for Boeing (BA) to jump 40.9% for the week.
While up on the week, defensive sectors lagged, as utility stocks rose more than 2.5% over the last five days and real estate stocks higher by 6.9%.
Among the laggards were the consumer staples and health care sectors which gained 1.7% and 0.3%, respectively.
We expect focus to turn to the rising virus and hospitalization case counts that are lagging behind the Memorial Weekend partying and George Floyd protests.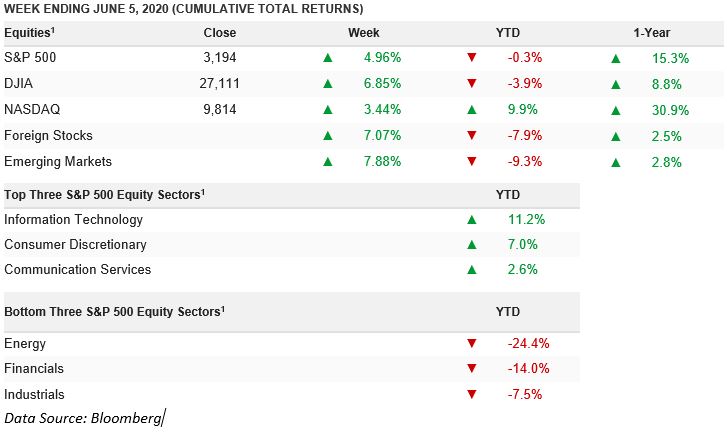 Weekly market updates contain general information and expresses views of Oak Harvest Investment Services. Data, Articles, and information cited are believed to be reliable at the time of creation, but is not guaranteed. Content should not be regarded as personalized investment advice. Views and opinions expressed may change without notice and do not constitute a recommendation, or an offer or solicitation to buy or sell securities. In addition, Oak Harvest makes no assurance as to the accuracy of any forecast made. Past performance is not indicative of future results. Investing involves the risk of loss.