05.20.2019 – Deadzone: Week 4 – Expected, but still not Fun
By Chris Perras, CIO
Equity markets had a choppy week caused by renewed trade tensions and mixed U.S. economic data. The S&P 500 fell 0.6% by the time it all finished, ending the week around 2860 with "boring" consumer staples, telecom and utilities being the only sectors to gain. Almost every strong piece of data last week (housing starts and consumer sentiment) was negated by something on the weak side (retail sales and industrial production).
On Friday, we had positive news on trade related to delaying tariffs on European auto imports and eliminating steel and aluminum tariffs for Mexico and Canada, but the markets are more concerned about the China agreement.  China trade related names were far and away the worst performers.  Deere gave slightly softer second half guidance and one of the largest tech equipment companies in the world, Huawei, products were essentially banned from import into the USA.  This "ban" hit the semiconductor group hardest as Huawei has become a top 5 global consumer of semis. They are particularly strong in the early roll-out of 5th generation networks.
Emerging markets continue to struggle, with trade tensions weighing on China and dollar strength weighing on foreign equities. The escalated trade war has not been good to risk currencies.  Since Easter, (and where we think the market topped short term) China has let their yuan slide nearly 3% (toward 7/US$) in the past two weeks.  (See chart). The U.S. dollar has risen against almost all major currencies except the disaster insurance of the Japanese yen and Swiss franc.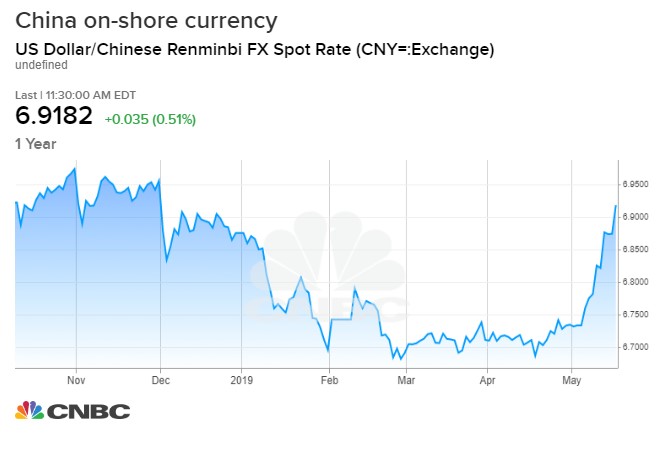 Outside of Deere, earnings reports were strong and well received with both Cisco Systems and Walmart examples of companies posting better than expected revenue and earnings.
As volatility continues to spike through late June, and valuations become more attractive, we will move from the "go-slow" mode of investing that we've been in for over 2 months, to a more accelerated investing schedule. Volatility, while not enjoyable, breeds opportunity for long-term investors.
Weekly market updates contain general information and express the views of Oak Harvest Investment Services. Data and information cited is believed to be reliable at the time of creation, but is not guaranteed. Content should not be regarded as personalized investment advice. Views and opinions expressed may change without notice and do not constitute a recommendation, or an offer or solicitation to buy or sell securities. In addition, Oak Harvest makes no assurance as to the accuracy of any forecast made. Past performance is not indicative of future results. Investing involves the risk of loss.